Here begins a four-part article, detailing a French study holiday undertaken in my third Renault 4, a UK-registered right-hand drive GTL named Reflexia, in the summer of 2005. The trip involved a long return journey from England to central France, plus several outings during my stay to some spectacular locations.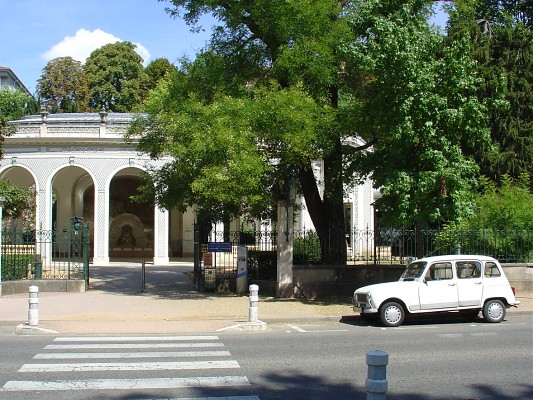 August 2005, and the promise previously mooted of more action for Reflexia this summer became a reality, when I took the car on my working holiday to France for three weeks. I travelled to Vichy, at the northern end of the Auvergne region in mid-France, for an intensive French language course, which doubled as my summer holiday. The journey there was a marathon slog of fourteen hours, during which I took only two 15-minute breaks, aside from the hour-long boat crossing from Dover to Boulogne-sur-Mer. Having slept only a couple of hours the previous night, I wasn't best prepared for the long journey, but had little choice given the necessity to start the course the following day.
Soon after departing Hove, I noted the temperature light illuminating on my display, fairly frequently. Not knowing why, or what to do about it, and in a mad rush to reach Dover in time for the ferry, my only course of remedial action was to switch on the fan, although that appeared to be functioning automatically as it should have done. I found that driving a little more slowly (not more than 60mph), or driving uphill, seemed to extinguish the light, albeit temporarily.
In preparation for the trip abroad, I'd bought the necessary warning triangle (required by law in France but thankfully never deployed), stuck the GB sticker on the boot and hoped for the best. I couldn't obtain breakdown cover abroad except at phenomenally high cost. My insurance company had recently dropped the service, which would have cost me a moderate £41 for three weeks' cover. Practically all other breakdown organisations now offer cover only for vehicles under ten, fifteen or twenty years, ruling out my quatrelle at the grand old age of twenty-one. The AA did offer such cover for older vehicles, but gave me a quote of over £180, which I wasn't willing to pay. My thinking was that, in addition to believing the car to be in a generally well state, any garage in France would be familiar enough with the R4 to be able to repair most common problems with ease, and so I would take my chances.
The one other requirement of driving abroad is to change the direction of the headlight beam. Kits from major motoring suppliers are inordinately expensive for what they are (a couple of bits of card or plastic), and I noted they contained no mention of the Renault 4 in the list of vehicles one must use as reference for correct fitting. I was setting off in the dark at 5am but through south-east England, and was aiming to reach my French destination before nightfall, so I figured I could forego the adjustment and leave it until later. Whilst in France, I did the inadvisable thing of adjusting the beam myself, using a screwdriver to turn the two screws on either side of each headlight. With the car pointing at a wall from a distance of around 15 metres before daybreak, I swapped the pattern I could see on the wall to the reverse. It wasn't perfect, but it would suffice for the small amount of night-driving I expected to do on the continent.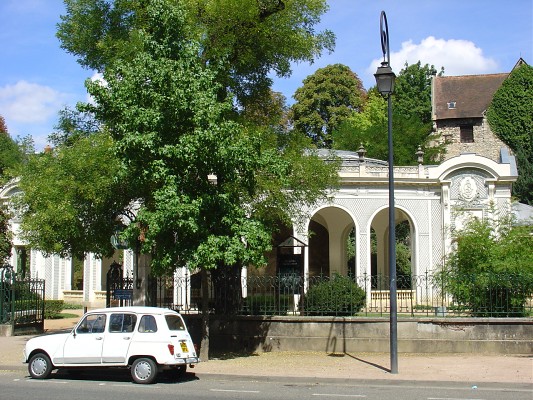 Mercifully, the temperature warning light was the only real problem I experienced on the journey south. My other difficulties were with the Paris ring road, which was a bigger nightmare than I ever expected. In contrast to London's M25, which is simple to fathom out due to it having just the one name / number, the Parisian circular motorway is composed of umpteen individual sections, all going by separate numbers. Hence, with a plan to follow the ring road around its eastern side, after just two or three junctions I soon found myself heading straight through the centre of Paris on a Sunday lunchtime. Right past Gard du Nord, onwards to the Louvre, and from thereon a farcical zig-zag route which symbolised the simple expression: 'lost'.
Each time I checked my map, I aimed for a road which would then turn out to be one-way, or mounted on an inaccessible viaduct not referenced on the map. Most commonly, a road having four lanes of traffic would suddenly merge into one, or vice versa, and I would find myself stuck in a crowd of cars unable to dart off in the direction I desired. Having driven in many countries around the world, I can honestly say that Paris is as big a nightmare for the motorist as its notoriety suggests. I recall only Tangiers as being more chaotic, but I was just a passenger when travelling there. If my movements around this French metropolis were being tracked by the secret service, they would either be laughing their secret socks off at my idiocy of directions, or worried by my exceptional ability to evade anybody pursuing, in taking the most incongruous route possible across the capital. Eventually, after an hour of mayhem, I found myself exiting Paris to the south, although the road I followed took me through countless, seemingly endless suburbs which slowed me down for almost a couple of hours more. By this time, it was four o'clock in the afternoon.
Somewhere in the middle of nowhere, I took my second short breather of the day, sipping more coffee from my trusty flask which had kept its contents roasting hot now for over twelve hours. I soon reached the first spot on the journey that typified the symbolic image of French roads, in which evenly spaced trees lined both sides. Throughout the route, I had opted to shun all the toll roads, adding more time to the journey but keeping my car off the motorways, which was both preferable for me personally but also most probably necessary to avoid so much overheating of the car at high speeds. I finally reached Vichy at half past eight in the evening, and needed only to deploy the side lights for the final twenty minutes, avoiding any run-ins with the law due to incorrectly adjusted main beams.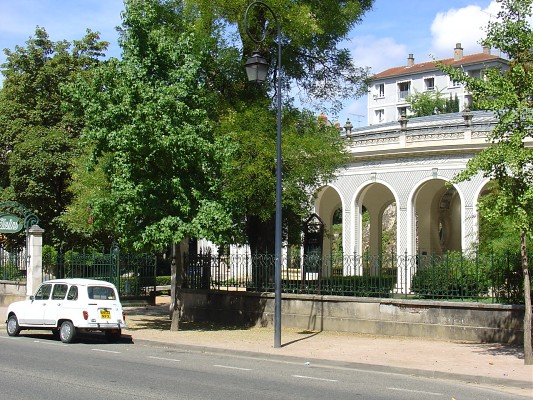 I was exhausted, but proud of the Renault for getting me there. It's always a gratifying experience to travel fair distances over land, rather than in an aeroplane, so as to appreciate just how far one has actually come. I'd seen countless horizons appear in the distance and disappear way behind me, and although I was still only in the middle of France, I could gauge just what a huge passage of land I'd covered. I arrived at my halls of residence in Vichy, only to find them locked and unmanned. Some students helped me out, I found an emergency number and I was soon settled in. Having unpacked my bags, grabbed a take-away and finally bed down at midnight, all I had to worry about was the French test awaiting me at 8am the next morning. Merde!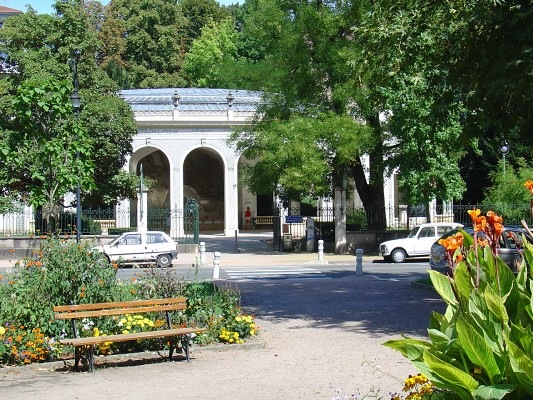 The photos on this page were all taken at the Source des Celestins, the source of Vichy mineral water where the public can stop and freely fill up. It was located a short walk from my residence, and next door to Cavilam college where I studied. A couple more pictures of another Renault 4 seen parked outside the college can be found in the Gallery on the People's Pics page (number PP194).