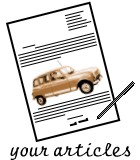 Renault 4 Rallies
page 1 of 6
by António Pinto dos Santos, 1 May 2005
Rally driver António Pinto dos Santos has participated in many events using his Renault 4, and other leading rally drivers have taken charge of his car throughout various other championships. He contacted me in spring 2005 to offer the following collection of images from several of these races. Further info and a story about António's exploits in a Swedish Rally in 2000 can be found here.

To begin, here are two photos of Reinhard Klein at the Rally of Catalunya 1999.
<< previous article | next article >>
>> return to 'your articles' index <<