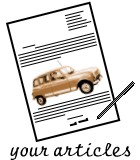 R4 Goes Supersonic!
by Peter Gumbrell, 4 May 2004
The magazine 'Shell Aviation News' displayed the following photo on its inside cover in 1967:

There was little other information provided except for the caption underneath:

'Probably no one will ever know what made Sud Aviation technicians draw an outline of the Concord SST on the apron at Toulouse, then park 75 Renault 4 light cars on it. But the composition is unusual.'

I purchased this picture with the magazine via an Internet auction in 2004. I felt it was symbolic in showing two of the greatest engineering feats of the twentieth century together. The R4 first materialized in commercial form in 1961, whilst the plane didn't enter proper service until the mid 1970s. One required billions of pounds of investment to carry relatively small numbers of people at phenomenal speed around the globe, whilst the other received limited funds and went on to complete billions of considerably slower, shorter journeys in all corners of the world. Both were ingenious designs which caught the public's imagination, and it was the Renault 4, perhaps surprisingly, which ultimately outlived Concorde. Might any of those 75 quatrelles pictured still be in existence today?
<< previous article | next article >>
>> return to 'your articles' index <<